Hi there, readers! My name is Jessica and I blog over at The Newly. You can find me there daily, chronicling my life as wife to a medical resident and new mother to two.
Sara and I have been blog friends for a while now. Her sweet daughter, Harper, and my son Caleb, are only a couple of weeks apart, so Sara and I connected on our new motherhood journey together. I remember emailing back and forth with her in the weeks leading up to our childrens' births, with questions and concerns we both had about this unknown chapter we were about to embark on. And we've been friends ever since! She's been a great source of information for me now, as having a little girl is uncharted territory for me - but something that Sara is obviously very familiar with. I only wish we lived a bit closer together, as I know we'd enjoy chatting and hanging out on the regular - especially on Sara's adorable back porch, which she recently renovated!
Anyways, Sara asked me to pop by today and guest post while she and her sweet family enjoy some much needed vacation time, and I was happy to oblige. Today, we're talking style staples. As a stay at home mom, my style staples have changed a bit from the days in which I commuted to an office. But there are still a few things that I think every woman should have in her closet, whether she's a stay at home mama, a mama who works outside the home, or a woman with no children at all.
A Timeless Button-Up
A classic button-up will stand the test of time, and can be dressed up and dressed down, depending on the occasion. I am a big fan of chambray button ups, and have both a light version, as well as a darker one. I love this popover version as well - which is light enough to pair with jeans, but would also look cute with anything from leggings to shorts to skirts. Love.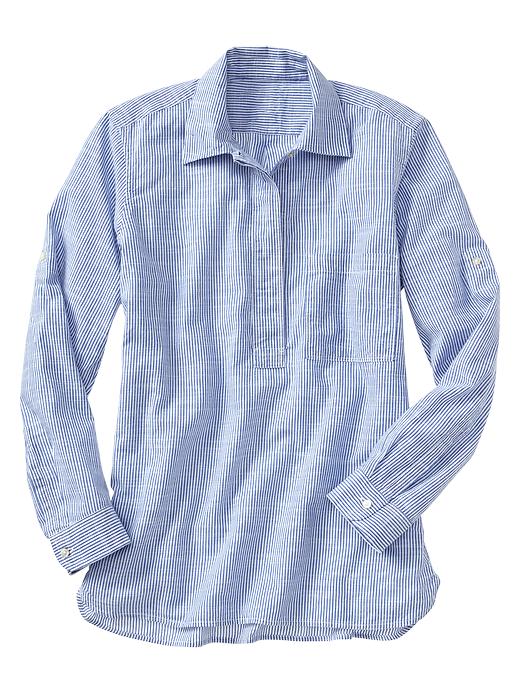 Classic Black Heels
Whether you work in an office or stay at home and spend your days covered in Cheerios, a la yours truly, there will come a time in which a classic black heel will be required. Make sure you have one for when that day arrives. They pair well with everything from boyfriend dreams to shifts and are a definite staple item.
Boyfriend Jeans
I debated on whether to include skinny jeans or boyfriend jeans in this list of style staples. But, to be honest, skinnies just aren't for everyone. Boyfriend jeans? Well, they are. Anyone can throw on a pair of this comfy fitting style and look cute. They can be dressed up with wedges (these being my favorite) or paired with flip flops for some casual errand running on a hot day. Bonus: This pair is under $60 right now!
A Black Tote
If you don't already have a black bag, jump on this bag now. It's roomy, stylish, and best of all? Reversible. So you can use the black side, and when the whim strikes, flip it inside out for the cognac color. I have this bag in the blush pink/taupe version, and highly recommend it. For the price, you can't go wrong!
A Daily Bauble(s)
Whether it be a necklace (I have one with both of my children's initials on it from this shop), a ring, or a pair of earrings that you wear daily, every woman should have a 'go to' that they can throw on to finish their look no matter what's on the agenda for the day. I love these simple gold earrings, and think they would be a great addition to any jewelry box. Particularly mine, since I am lacking in everyday earrings right now!
An "LBD" (Little Black Dress)
Every woman needs a little black dress in her closet - a versatile option to throw on for everything from a high school graduation to an office cocktail party. I recently purchased a dress very similar to this one, and plan to wear it to a friends' wedding in just a couple of weeks.
A Nude (Metallic) Shoe
A nude shoe is something that can be paired with anything, while also being highly flattering - nude having the effect of lengthening the legs. A nude heel, like this one, can be dressy enough for a ball gown, or can be paired with jeans and a tank top for a date night. I noted that metallic could also be considered a neutral in this particular case. Specifically, gold. I myself am on the hunt for a gold sandal to have on hand for occasions, such as the wedding mentioned above, when a black shoe would be a bit boring. If you know of a cute gold sandal, be sure to let me know!
There are several other items I'd consider to be closet staples, but I thought this was a good start for today. Anything obvious that I am missing? A couple of items on this list are things that I need to update/add to my own closet, and will be working on that in the near future. As a grown woman, it's important to always have the staples intact. Otherwise, it's hard to build a complete wardrobe!
Be sure to stop by and visit me over on my blog if you're interested to hear a bit more of my ramblings on a daily basis!:)